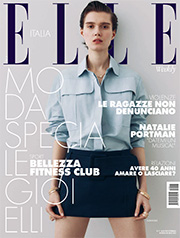 http://www.elle.it
Elle
Reading women.
The most widespread and famous women magazine in the world. Every week in your home. A magazine with a successful formula described by the simple slogan "seriousness in frivolity, and irony in graveness". Elle: fashion, beauty, news, style for 7 days.
Subscription term: 1 year offer
Digital edition included
Only: € 65,00
Shipping costs info:
First Class
Europe:

€ 28,00

USA/Canada:

€ 41,30

Anywhere else:

€ 57,00
Economy
Europe:

€ 18,00

USA/Canada:

€ 20,70

Anywhere else:

€ 25,80
You will be able to choose the shipment method during the checkout process.